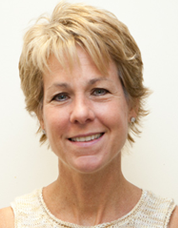 Deirdre Twomey has been a member of the Pediatrics Potentials team since we first opened our doors in 1994. Deirdre's thirty year occupational therapy career began when she graduated with honors from Syracuse University and worked for 2 post graduate years in adult rehabilitation. Deirdre spent five years in the pediatric department at JFK Medical Center in Edison, New Jersey where she learned to be an integral member of a "team oriented" approach to treating children with disabilities. While at JFK, she also worked as a school based therapist. She later served as a school-based therapist at different schools through the Morris-Union Jointure Commission.
Today, Deirdre's primary OT focus is working with toddlers, preschoolers and younger school-age children with sensory processing issues, as a workshop presenter to teachers and parents, and as a school consultant for classroom accommodations. She also serves as an OT supervisor in an integrated pre-school at Montclair State University Children's Center, and as a mentor for other occupational therapists.
Deirdre's clients and their families relish her sense of humor and compassion. She particularly enjoys her relationships with clients' families and collaborating together to achieve the best possible outcome for their child. Deirdre will be listed in New Jersey Famiy's "NJ Favorite Kids' Docs and Exceptional Healthcare Providers" of 2014. The professionals on the list are nominated as "exceptional" by readers of the magazine.
She enjoys spending time with her husband and children, traveling, exercise, reading and gardening.