Pediatric Potentials invites you to join our

S UP-ER BOWL

CANNED SOUP DRIVE

Please bring any canned soup from now until Jan. 31st.

All your donations will be given to a local food pantry / soup kitchen.

THANKS FOR YOUR SUPPORT !!!

One can, two can, who can? You can!

A Mother-Daughter Mini Retreat

3rd-6th grade girls & their moms

led by: Danna Markson, LCSW, Licensed Clinical Social Worker

Director & Founder Mindsoother Therapy Center

Laurie Kalb, OT

, Occupational Therapist

Shoshana Newman, PT,

Physical Therapist

Mommy Meditation

Are you running on empty? We invite you to...

*Relax *Restore *Rejuvenate *Breathe

With Jill Gropper, Certified Lifestyle Coach & Meditation Teacher

WEDNESDAY, DECEMBER 7, 2016

held at

PEDIATRIC POTENTIALS

154 South Livingston Ave, Suite 204 Livingston, NJ

Our guest speaker, Jill Gropper will guide us through a beautiful morning meditation.

She will explain the health and wellness benefits of a daily meditation practice. She will also discuss ways in which you may live a more mindful lifestyle with grace and ease, through various breathing techniques to decrease stress and calm the mind

.

Space is limited.
Understanding your "Sensational Kid"
A time for sharing questions, concerns, and solutions
Discussion led by Pediatric Potentials Therapists
WEDNESDAY, NOVEMBER 2, 2016
held at
PEDIATRIC POTENTIALS
154 South Livingston Ave, Suite 204 Livingston, NJ
Explaining your child to relatives, caregivers and friends

Managing successful playdates, parties and family events

What is a "sensory diet ?"

Creating "sensory" spaces

Talking to the teacher--"to tell or not to tell"

Questions to ask at your child's parent/teacher conference

Generate your own topics...we want to hear from you !!!
RSVP by October 28, contact Prudence
(973) 535-5010
Space is limited.
-----------------------------------------------------------------------------
What Parents Can Do To Support Healthier Schools
As Fall approaches, many children are heading back to school. Because children spend much of their time in classrooms, schools are an ideal setting for promoting healthy habits.
Ask that water be made available throughout the day or that you be allowed to send a no spill water bottle into school.
Encourage teachers and administrators to reward kids with extra recess or movement games rather than sweet treats.
Encourage kids to sign up for after school sports, running clubs, and other physical activity opportunities offered by the school or your town, or volunteer to lead such activities.
Support safe walking routes to school.
Activities such as yoga, Zumba, gardening, and martial arts inspire students to be physically active and make healthier lifestyle choices.
Ensure that healthy options are offered during lunch and snack times. Healthy students are also better learners. Students who eat foods rich in protein, vitamins, and minerals are more likely to perform better than those students whose diets are heavy in unhealthy foods like sweets and fried foods.
----------------------------------------------------------------------------------------------------------------------------------
Morning Mindfulness & Meditation
With Jill Gropper - Certified LifeStyle Coach & Meditation Teacher
at PEDIATRIC POTENTIALS

To RSVP or for more information, contact Cami at
973-535-5010
Space is limited so please RSVP
Our guest speaker, Jill Gropper, Certified LifeStyle Coach and Meditation Teacher will begin with a tune-in exercise and guide us through a beautiful morning meditation. Jill will explain the health and wellness benefits of a daily meditation practice. She will also discuss ways in which you may live a more mindful lifestyle with grace and ease, through various breathing techniques to decrease stress and calm the mind.
We look forward to having you join us for this parent workshop and invite you to relax, restore, rejuvenate and breathe.
---------------------------------------------------------------------
PARENTING POTENTIALS WORKSHOP:
Qigong Sensory Massage
For Children with Sensory Processing Differences, Autism and Developmental Delay
Qigong Sensory Training is an exciting research-based treatment for young children with autism and tactile/sensory difficulties. The treatment is given by parents at home and has been shown in controlled studies to help normalize touch, stimulate self-regulation and improve sleep, social skills and behavior. (see www.QSTI.org )
Results after 5-months of massage have shown:
Improved sleep, digestion and sensory awareness
Easier transitions and fewer meltdowns
Decreased behavior problems and aggression
More eye contact and social connection
Improved social skills and language
This presentation gives an introduction to the background, benefits & research outcomes for families using QST. Learn how to read important sensory cues and how to use your touch to help your child shift into the calm, attentive state where all learning & social contact takes place. Parents interested in learning the 12-step technique will have the opportunity to sign up for more in depth hands-on training and supervision in this effective home routine.
Presented by Linda L. Garofallou, MS, LMT, IMH-E®-III
Certified Qigong Sensory Training Therapist
For questions about QST Massage: Linda@SweetStrokes.com
PEDIATRIC POTENTIALS
154 South Livingston Ave, Suite 204 Livingston, NJ
THURSDAY JANUARY 21, 2016
6:45 PM
(Snow date: Wednesday, January 27, 2016)
To RSVP or for more information, contact Cami at 973-535-5010
FREE AND OPEN TO THE PUBLIC
**********************************************************
Learn more about
Primitive Integration Reflex
.
Click
here
for information, including a useful handout and a link to Youtube videos by our OT Elisa Grossbard. Please note that these exercises should only be done upon your therapist's recommendation.
ZONES GROUP FORMING NOW
The Zones group, led by Pediatric Potentials occupational therapists, will be geared to children ages 6-8. The children will meet twice weekly for 4 weeks, in addition to two parent sessions. The parent sessions are designed to help explain the Zones language and concepts as well as offer ideas and support to optimize the use of the Zones at home.
When: Monday and Thursday afternoons, starting July 6th. Group will start around 4:30 (depending on camp schedules), and will run for one hour. The first parent session will take place on Thursday, July 2nd at 5 pm.
What to expect: Group sessions will include a snack, lesson, time in the sensory gym as well as an opportunity for a supported social experience.
Fee: $950. The fee includes 10 sessons (2 parent and 8 child), snacks and handouts.
Registration: Call Cami at (973) 535-5010 by June 15 to secure your spot. Space is very limited!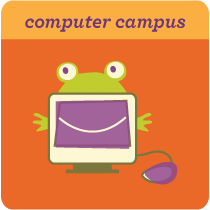 COMPUTER CAMPUS SUMMER BOOT CAMP
Boot Camp is a chance to learn special computer skills in a compressed period of time. Learn keyboarding, "Inspiration" (a writing organization tool), use of the Chrome book and enhanced study skills. Call Dale at (973) 454-9690.
S
ummer Intensives are now being scheduled.
Handwriting, fine motor and cursive writing, Interactive Metronome, Bike and Swim Training. Daytime and weekend trainings are available. Sibling and individual training in these important life skills can be arranged.
Call Beverly at 973 535 5010.
Therapeutic Camp Experience
August 4, 5, 6,
August 11, 12, 13,
Pediatric Potentials proudly presents our first therapeutic camp experience supervised by Pediatric Potentials Occupational and Physical Therapists.

Camp will run during the month of August. Tuesdays, Wednesdays, and Thursdays.
Morning Session from 10:00-11:30.
Afternoon Session from 12:30-2:00.
Pre-registration is required.
Sensory motor gym time, fitness fundamentals,
kindergarten readiness, fine motor, writing and arts and crafts.
Cost per child: $75 per session
Buy 8 sessions and get the 9th one free.
Pre-Registration required.
Call to Register (973)535-5010
Space is limited!
Fifth Annual Bike Fest-- Sunday June 7, 2015 --
A Free, Family Event
TAKE A LOOK AT THE FABULOUS PHOTOS OF THIS EVENT ON OUR FACEBOOK PAGE! Pediatric Potentials' therapists were available from
11am - 2pm
at our Fifth Annual Bikefest to help children learn the basics of bike riding.
We had stations set up so children can advance from tricycle to scooters, pedal-less bikes to bicycles. We worked on balance, bilateral coordination and endurance - all necessary for a successful bike riding experience. We offered tips on
biking safety
as well. Siblings joined in the fun.
PARENTING POTENTIALS WORKSHOP SERIES:
Our recent workshop on Simplifying the School System Landscape: Navigation the School System and Advocating for Your Child with Special Needs, presented by Dina Cagliostro, Ph.D., was hugely successful. These workshops are free and open to the public, held at our offices.
On Thursday April 30 at 6:45, we will present our next Workshop: "Getting into the Zone: Helpful Tools for Managing Behaviors." Learn about the Zones of Regulation Program. Incorporate the language, concepts and strategies of The Zones to help your child self-regulate. Led by occupational therapists Deirdre Twombey, Ilana Kanovsky and Laurie Kalb. To inquire and to reserve your free spot, call Cami at 973 535 5010.
Weekend Yoga:
Classes are being offered Saturday and Sunday mornings at 10AM with experienced, certified yoga teacher Julisa Banbanaste.
The series begins Saturday, April 18th or Sunday, April 19th.
All abilities welcome.
5 classes for $200.
For more info contact Julisa at
(917) 400-1918 or email her at
ban5143@yahoo.com.
GENTLY USED TOY DRIVE: We're cleaning our toy and game closets and donating items to Harmony Day Care in Irvington. If you'd like to contribute toys and games that your children have outgrown, kindly add them to the waiting room bin.
We're thrilled that OTs Mary Ann Loreng andMarjory Hansen have recently become Interactive Metronome Certified Providers. Kudos to you both!OT Director Laurie Kalb is also an Interactive Metronome certified provider as well as a IM Home Virtual Training Specialist. Learn more about Interactive Metronome.
Music Potentials: Creative Measures Music Therapy Groups will be hosted at Pediatric Potentials. Classes are currently forming for 9:30 and 10:30 am on Sunday Dec. 14 and Sunday Dec. 21. Classes are for parent and child together, are 45 minutes in duration, and will include guitar music, instruments and props and movement. Board certified music therapists will lead students in new and familiar songs based on the children's needs. Alyssa Casazza, MA, MT-BC, LCAT will be organizing the classes.
Music therapy has been shown to:
Enhance Communication
Improve Social Skills
Develop Gross and Fine Motor Skills
Improve Coordination Skills
Promote Impulse Control
Improve Self Expression
Reinforce Academics
Build Self Esteem
Classes cost $35 per session, preregistration is necessary.
Discounts are available for siblings.
On Tuesday, October 21, Dr. Rika Alper, PhD. will host a conversation with parents and professionals on how your child's anxiety may be affecting your family (details follow below).
The timing of our hosted talk with Dr. Alper is intended to "nip things in the bud" prior to some common times of behavior change. Dr. Alper will add humor and insight into your experience with anxiety. Simply knowing you're not alone is a great way to reduce anxiety.
Having a sensitive child, or a child with individual differences, can have a profound affect on parenting abilities and the overall family dynamic. Sometimes, having an anxious parent can also create an environment of angst.
Children often cannot express – in words – what exactly worries them. They may, instead, act in ways that are disruptive to families. At the same time, adults don't always realize the messages they send to their child – either in response to their own frustrations, or their child's anxiety. It is important to note, anxiety can exacerbate symptoms of sensory processing and attention difficulties. Basically, situations and feelings can go from "so-so" to terrible in a short period of time.
Be sure to keep track of the location and frequency of your child's behavior changes:
Sleeplessness
Tantrums
Oppositional behavior
Avoidance of busy settings
Unsuccessful play dates
Note that it is not uncommon for students to have behavior changes around the following times of year:
Just before school begins (in September)
After the first 6 weeks of school (when the "honeymoon" phase ends)
Thanksgiving & New Years (when parties, gifts and general commotion are abundant)
Late spring (around testing times and end of school year)
When we develop personalized treatments and programs at Pediatric Potentials, we look at both the individual child's situation as well as the big picture within the family. In the past year, we began hosting "Parenting Potentials" workshops to help families understand the different "forces" that affect their life. Keep an eye out for flyers and invitations to our future workshops.
Parenting Potentials Workshop: Anxiety in Children
Practical ways to recognize, understand and help kids and families cope with anxiety
Presented by: Rika Alper,

PhD

, Developmental Psychologist in Montclair, NJ
Tuesday Oct. 21, 2014 at 6:45 pm at Pediatric Potentials.
Free and Open to the Public.
To RSVP or for more information, please contact Cami at 973.535.5010
We're recently held a 3 day Brain Gym course in our office for staff. Brain Gym activities recall the movements naturally done during the first years of life when learning to coordinate the eyes, ears, hands, and whole body. Use of the Brain Gym program (in existence for 20 years) has been reported to bring about dramatic improvements in areas such as:
Concentration and Focus

Memory

Academics: reading, writing, math, test taking

Physical coordination

Relationships

Self-responsibility

Organization skills

Attitude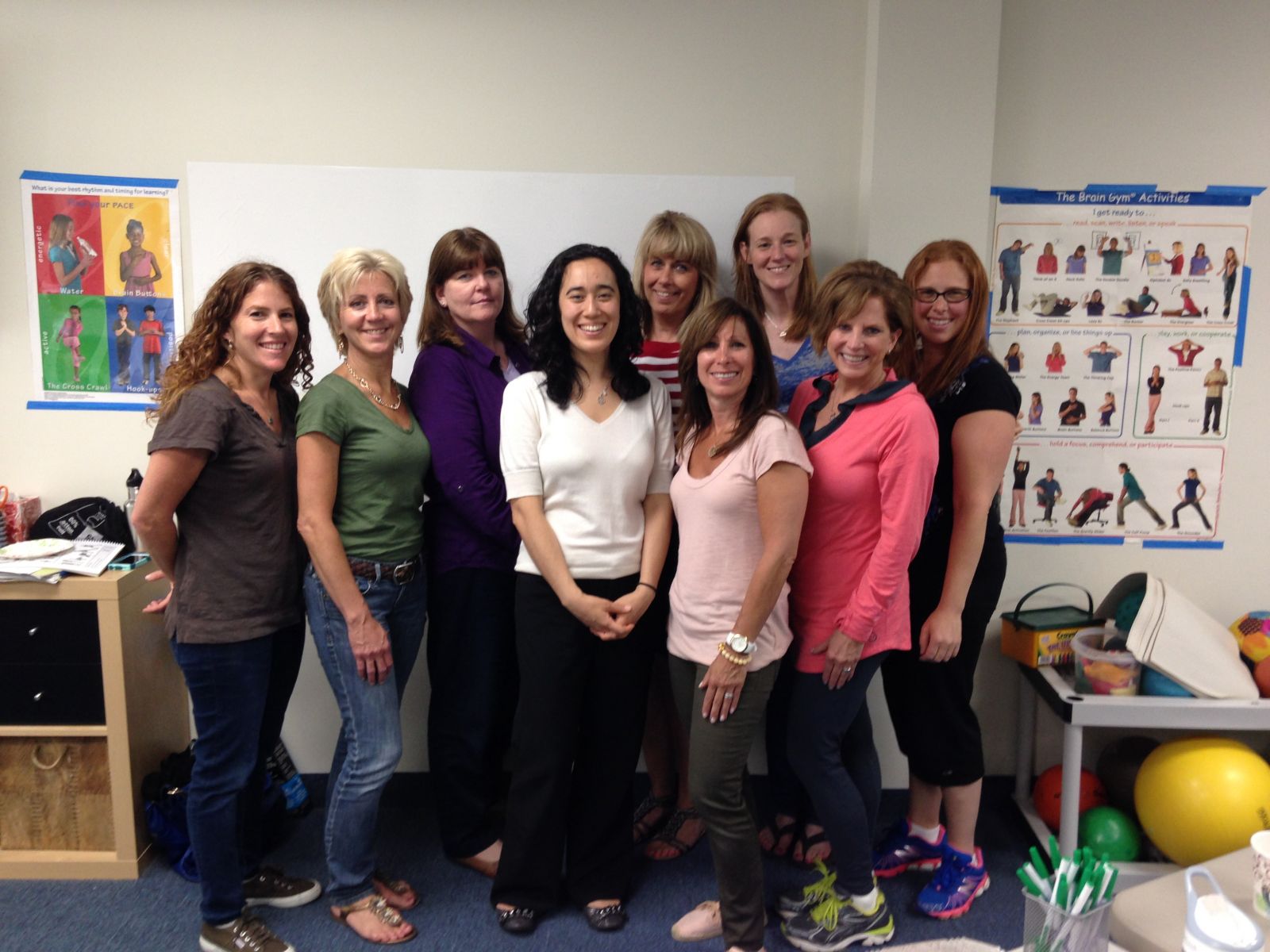 Amy Ladetsky, Mary Ann Loreng, Margie Hansen, our trainer Mari Miyoshi, Grace Malone, Ilana Kanovsky, Shoshana Newman, Laurie Kalb and Jodi Prupis at our June Brain Gym workshop. OT Anne Bentley Fell previously took this workshop in Maine.
Our motor gym is the perfect setting for use of the Brain Gym program!
Stuff the Bus for C.H.O.W. (Community Hunger Outreach Warehouse).
We're proud to have been an official Stuff the Bus stop. Healthy food donations were brought into our office until noon on Thursday, May 22, 2014, and then donated to C.H.O.W. (Community Hunger Outreach Warehouse) of Livingston. Requested items:
Peanut/Sun Butter & Jelly
--------
Our March workshop presentation of "Understanding your child's sensory needs and self-regulation in everyday life" at Pediatric Potentials was very successful.
Parents and family members learned how the sensory system works, both in typical children and in children with sensory processing difficulties. Through discussion with trained therapists, strategies were given to help children regulate their sensory systems, cope with daily stressors and function throughout their day.
---------
Parenting Pointer: Daylight Savings Time Transition Sleep Tips for Kids


We set the clocks forward one hour this weekend, which hopefully this means that Spring is around the corner. Before bedtime on Saturday night, turn all your clocks ahead 1 hour. To help your child adjust to the time change:
-If possible, use room darkening or black out shades, as the sun will rise earlier in the morning.
-a sound machine will help muffle noise such as dogs or birds (but be careful it isn't too loud for the delicate ears of babies and infants).
-on Sunday morning, wake the child at the time they would normally get up. It will "feel" like an hour earlier, but the child will adjust.
-try to use regular nap times according to the new clock.
-be sure to expose your child to lots of natural light in the morning.
-just because it is light outside later into the evening, be sure to put your little one to bed at the time she needs.
A well rested child is a happier child.
-----------------------------
Snacking at PP
Please note: in response to parental concerns, snacks provided by Pediatric Potentials will no longer contain nuts. Parents are reminded that they are responsible for monitoring their child's snack consumption at this office in light of their personal knowledge of their child's sensitivities.
-------------
We're thrilled to announce that Director of PT Shoshana Newman, Director of OT Laurie Kalb, and OT's Anne Bentley Fell, Natalie Katzourin-Buschbaum, Elisa Grossbard, Ilana Kanovsky and Grace Malone have all been named to Family's prestigious 2013 Favorite Kids Docs' and Pediatric Specialists. Your referral of our staff as "exceptional professionals" who strive to help al our children reach their potential means the world to us!
--------------
Ten of our therapists have recently had a unique opportunity to complete the five day
Sensory Processing Disorders Intensive Mentorship Program
at our offices in Livingston. The course focused on the latest research on SPD and the best assessment and treatment tools for SPD, taught by two leading experts in the field, and led to certification for all participants.
Pediatric Potentials Occupational Therapy Director Laurie Kalb states "We have always focused on providing cutting edge therapy in an environment that is highly personalized and playful. Being able to have this prestigious program at our own site - the first time it has been offered outside Colorado - enabled our highly experienced therapists to continue to reinforce their already strong skills in order to offer our patients the best in childrens' services. We were thrilled to work with Dr. Sarah Schoen, who was instrumental in developing and researching the Sensory Processing Disorder Scale with Dr. Lucy Miller (author of "Sensational Kids" and " No Longer a Secret") and is lead researcher on multiple publications. Lisa Porter, MOT, and faculty of the world renowned SPD Foundation, provided intensive mentorship and demonstrated techniques. This was a wonderful opportunity for our long-time staff to demonstrate mastery and achieve certification in clinical skills through treatment analysis with distinguished therapists."
Congratulations to our SPDF certified therapists: Grace Malone, Mary Anne Loreng, Laurie Kalb, Elisa Grossbard, Shoshana Newman, Amy Del Turco., Anne Bentley Fell, Ilana Kanovsky, Jodi Prupis and Deirdre Twomey.
And did you know that Natalie Katzourin-Buchsbaum was already an Advanced Mentored Clinician in SPD Level 1, having previously completed the Level 1 Advanced Intensive Mentorship at the Sensory Processing Disorder Foundation in Colorado!
---
Did you know that
Interactive Metronome
is now available from beginning to end at home, with Laurie Kalb's coaching via the internet! We're thrilled to be able to offer the cutting technology of this newly upgraded, totally internet accessible virtual program. We've used IM for ten years with wonderful success for improving focus and attention, coordination and balance, motor planning, sequencing, rhythm and timing. Call us to discuss IM Home for your child.
-----