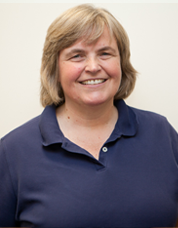 Anne Bentley Fell has a BA from Tufts University in child study and a masters in Occupational therapy from Columbia University. Anne brings many years of Occupational Therapy experience in hospital, school and private practice settings to her work. She studied sensory integration at the Ayres' Clinic and is certified in both pediatric and baby neurodevelopmental treatment. Anne is a provider for The Listening Program and Therapeutic Listening. Anne is certified as an Advanced Mentored Clinician in SPD Level 1, having completed the Advanced Intensive Mentorship from the Sensory Processing Foundation.
Anne has been repeatedly named to New Jersey Family's "NJ Favorite Kids' Docs and Exceptional Healthcare Providers". The professionals on the list were nominated as "exceptional" by readers of the magazine.
Anne loves the mix of clients and challenges she sees at Pediatric Potentials. Her practice focuses on treating infants to 12 year old clients with sensory integration problems, ADD, neuromuscular, and autistic spectrum issues. She enjoys working with occupational therapy students who sometimes spend short stints in our office.
Constantly seeking to offer her patients the best services available, Anne recently spent four days in Maine refining her knowledge of Brain Gym (R). Brain Gym activities recall the movements naturally done during the first years of life when learning to coordinate the eyes, ears, hands, and whole body. Use of the Brain Gym program (in existence for 20 years) has been reported to bring about dramatic improvements in areas such as:
Concentration and Focus
Memory
Academics: reading, writing, math, test taking
Physical coordination
Relationships
Self-responsibility
Organization skills
Attitude
Our new, enhanced motor gym is the perfect setting for use of the Brain Gym program!
A Millburn resident, Anne is the mother of a school-age son.