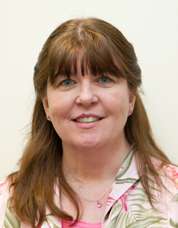 Marjory "Marjie" Hansen has over 30 years of experience in psychiatric and pediatric Occupational Therapy. She loves the diversity of practice and collegiality of Pediatric Potentials. Here 15 years, she sees a primarily school age population with mild learning or motor disorders. She particularly likes working with the younger grades of K-1-2, and especially enjoys teaching them to write. She is school certified and certified in both The Listening Program and Interactive Metronome.
Marjie was the first full time OT in any Morris County school district more than 24 years ago. She currently works here primarily with a pre-K through grade 5 population, including preschool handicapped, learning and language disabled (LLD), some children on the autism spectrum, and children with mild visual motor, fine motor and visual perceptual deficits. She occasionally evaluates and/or treats middle school, high school and college-age students. Her ongoing work in a school system makes her well aware of core curriculum standards and what children need to achieve educational success.
After spending time so much time as a "solo therapist" during her school days, Marjie particularly appreciates the collaborative environment at Pediatric Potentials. She is in awe of the way the extensive experience of the staff as a group makes it so easy to treat such a diverse population, and applauds the fact that no therapist has an ego but each is supportive of the other.
Marjie is the parent of a 23 year old son and a 20 year old daughter, and relates to the joys and frustrations of parenting because "I've been there, too."